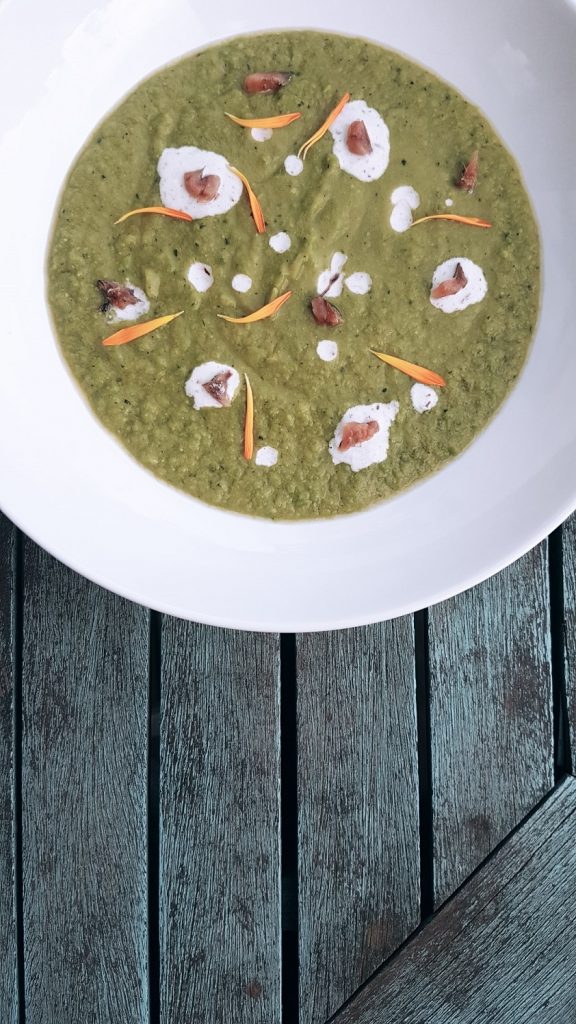 Ingredients
a large spring onion, chopped into large pieces

a zucchini, cut into 1 cm thick slices

salt

two cups of frozen peas

a tablespoon of dark miso paste

a dash of olive oil

freshly ground pepper

the flesh of a ripe avocado

......................................................................

For the yogurt mix

two large tablespoons of Greek yogurt

a dash of extra virgin olive oil

the juice of half a lemon

half a tea spoon of ground cumin

a pinch of salt

a handful of chopped pitted olives

......................................................................

Extra toppings

one or two diced anchovies

a dash of the anchovy infused oil

few edible flower petals (I used calendula)
Instructions
1
Chop into large pieces a large spring onion and a zucchini
2
Put them to boil in a pot with two cups of water with a pinch of salt. Let it cook for 5 minutes. Yes, this is going to be a super quick soup!
3
In the meanwhile let's prepare the yogurt mix that will accompany the cream soup as a topping: put two large tablespoons of Greek yogurt into a bowl. Add a dash of extra virgin olive oil, the juice of half a lemon, half a tea spoon of ground cumin, a pinch of salt and a handful of chopped pitted olives. Mix and incorporate well all the ingredients and set aside.
4
Add two cups of frozen peas to the boiling pot and cook for 2 minutes
5
Transfer the cooked vegetables and their liquid to a food processor/mixer or a container where you can use your hand blender. Add a tablespoon of dark miso paste, a dash of olive oil, freshly ground pepper and the flesh of a ripe avocado for extra creaminess. Blend well until you get a fine, velvety texture.
6
Serve with few spoons of the yogurt mix, diced anchovy, a dash of the anchovy infused oil and few edible flower petals (I used calendula)