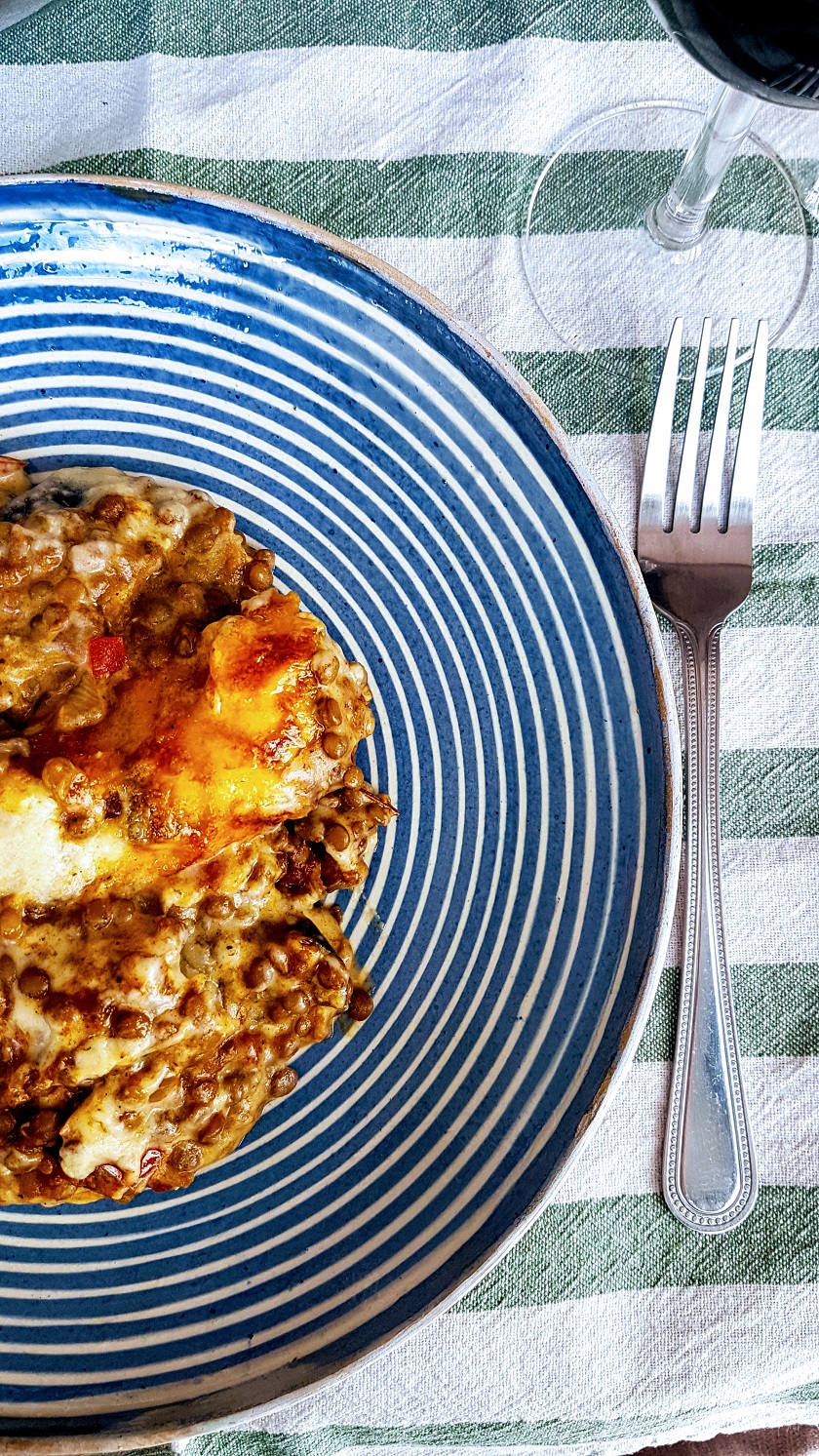 This recipe is one of the longest I have done but the final result is so rewarding. The food is nutritious and filling. You will have a huge quantity that will portion and freeze well, making it perfect for a morning or late night "batch cooking" for your entire family and busy week. When serving it I would recommend to fix up a quick salad with 3-4 different colour vegetables to provide additional fiber, enzymes and vitamins to your lunch/dinner.
Ingredients
1 clove garlic

1 red pepper

2 mid size onions

1 carrot

400 g lentils (green/brown)

1 litre of water

1 tablespoon dried thyme

a bunch of parsley

1 tablespoon dried rosemary (or couple of springs)

1 bay leaf

2 tablespoons of paprika

1 can of chopped tomatoes

10 tablespoons of tamari

salt & pepper

2 large aubergines

1/4 of teaspoon of cayenne pepper

1/2 kg of potatoes

1 tablespoon of olive oil

....................................................................

Ingredients for the bechamel sauce:

750 ml of milk

1 bay leaf

1 teaspoon of ground nutmeg

1.5 teaspoon salt

1/2 teaspoon of ground black pepper

115 g of butter/oil

115 g of flour (spelt/wheat)

2 eggs (optional)

350 ml yogurt

250 g grated Chedar cheese
Instructions
1
Preheat the oven to +200C (up & down grill)
2
Peel and crush the garlic
3
Deseed and chop the red pepper
5
Cut the carrot into small rounds
6
Take a large pot and add the lentils, garlic, red pepper, onion, carrot, thyme, rosemary, parsley, bay leaf and 1 litre of water
7
Place the pot on a medium fire and bring to boil
9
Add the paprika, the canned tomatoes, 5 tablespoons of tamari, 1 teaspoon of salt, half of teaspoon of black pepper
10
Simmer for 30 minutes until the water is gone
11
Cut the aubergines into 1 cm cubes and put the in a bowl, tossing them with the mix of 5 tablespoons of tamari, 3 tablespoons of water and a bit of cayenne
12
Place the aubergine in a baking tray and roast them for 25 minutes
13
Slice the potatoes into 1 cm thick rounds, toss them with olive oil and salt and roast them in the oven for 25 minutes
14
The Bechamel Sauce preparation:
15
Mix the milk, bay leaf, nutmeg, salt and pepper into a pan over a medium heat, stirring from time to time
16
In another pot melt the butter over a low heat
17
Whisk the flour into the fat for 5 minutes until it is absorbed
18
When the milk starts to bubble, remove from the fire and take out the bay leaf
19
Slowly add the milk to the mix of butter and flour, whisking continuosly
20
The mixture will start to look like a sauce
21
Once the milk was added, continue stirring for 5 minutes over a low heat, until the sauce thickens
22
If using the eggs, add them one at a time, whisking continuously
24
Remove from the heat, season to taste and add the 100 grated Cheddar cheese
25
To put together the moussaka, you will need a large ovenproof pot. I used a large clay pot that previously was left into water to soak the humidity that during the time spent in the oven will contribute to create moist and vapors.
26
Put a layer of potatoes, then 1/3 of the white sauce
27
Put half of the lentil mix
28
Add half of the roasted aubergines, followed by another layer of white sauce
29
Sprinkle half of the grated cheese over the white sauce
30
Add the remaining lentil mix
31
Follow with the rest of aubergines and another layer of white sauce
32
Top all with grated cheese and bake in the oven for 30-40 minutes
33
Keep the moussaka "rested" for 10-15 minutes before serving